Metabolómica Biomédica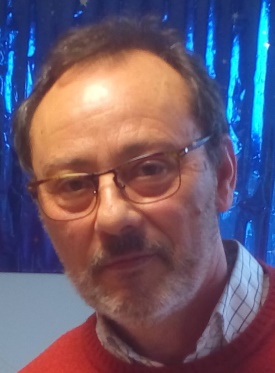 Metabolomics has become a relevant tool in biomedical research. Over the last decade, most relevant universities worldwide have promoted the development of Metabolomics groups, societies or even Metabolomics Centres (
https://metabolomicssociety.org/
). Metabolomics combines an analytical technique like mass spectrometry coupled to chromatography (LC-MS) or nuclear magnetic resonance (NMR) with multivariate statistical methods in order to unveil which metabolic pathways are dysregulated through variation in metabolite concentration. Metabolites analysed with this methodology are currently small molecules (< 2000 Da). Metabolomics is related to what is known as precision medicine or personalized medicine (
https://www.personalizedmedicinecoalition.org/
).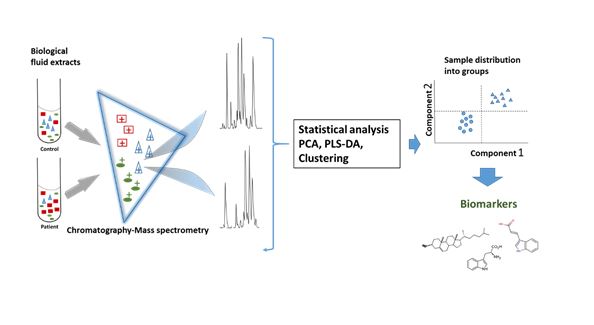 Our group aims at using mass spectrometry- based metabolomics for finding biomarkers in biological fluids that could serve for early disease diagnosis and improving therapeutic treatments. A Synapt™ HDMS G2 mass spectrometer coupled to an Acquity™ UPLC chromatography system (WATERS™ Corporation) is available for our research at present. Collaboration with diverse groups in different projects is underway.
RECENT PUBLICATIONS
Sonia Andrés; Ole Madsen; Olimpio Montero; Alba Martín; F. Javier Giráldez (2021). The Role of Feed Restriction on DNA Methylation, Feed Efficiency, Metabolome, Biochemical Profile, and Progesterone Patterns in the Female Filial Generation (F1) Obtained From Early Feed Restricted Ewes (F0). Frontiers in Physiology. Frontiers. 12-779054. ISSN 1664-042X. https://doi.org/10.3389/fphys.2021.779054.
Silvia M. Albillos; Olimpio Montero; Sara Calvo; Berta Solano; Esther Cubo (2021). Can Plasma α-Synuclein Help Us to Differentiate Parkinson's Disease from Essential Tremor? Tremor and Other Hyperkinetic Movements. Ubiquity Press. 11-1, pp.20. ISSN 2160-8288. https://doi.org/10.5334/tohm.600.
Silvia M. Albillos; Olimpio Montero; Sara Calvo; Berta Solano-Vila; José M. Trejo; Esther Cubo (2021). Plasma acyl-carnitines, bilirubin, tyramine and tetrahydro-21-deoxycortisol in Parkinson's disease and essential tremor. A case control biomarker study. Parkinsonism and Related Disorders. Elsevier. 91, pp.167-172. ISSN 1353-8020. https://doi.org/10.1016/j.parkreldis.2021.09.014.
Olimpio Montero; Marta Velasco; Jorge Miñon; Evan A.N. Marks; Aurelio Sanz Arranz; Carlos Rad (2021). Differential Membrane Lipid Profiles and Vibrational Spectra of Three Edaphic Algae and One Cyanobacterium. International Journal of Molecular Sciences. MDPI. 22, pp.11277. ISSN 1422-0067. https://doi.org/10.3390/ijms222011277.
Olimpio Montero (2021). Cholesterol in virus entry into host cell: diet, phytosterols and statins. Functional Foods in Health and Disease. Functional Food Center. 11-3, pp.104-115. ISSN 2160-3855. https://doi.org/10.31989/ffhd.v11i3.780.
Alba García-Serrano; Joao Tomé-Carneiro; M Carmen Crespo; et al. (2020).  Concentrates of buttermilk and krill oil improve cognition in aged rats. Prostaglandins Leukotrienes and Essential Fatty Acids. Elsevier. 155, pp. 102077. https://doi.org/10.1016/j.plefa.2020.102077.
Luis Gil-de-Gómez; David Balgoma; Olimpio Montero (2020).  Lipidomic-Based Advances in Diagnosis and Modulation of Immune Response to Cancer. Metabolites. MDPI. 10-8,  pp.332. https://doi.org/10.3390/metabo10080332.
David Balgoma; Luis Gil-de-Gómez; Olimpio Montero (2020). Lipidomics Issues on Human Positive ssRNA Virus Infection: An Update. Metabolites. MDPI. 10-9, pp. 356.  https://doi.org/10.3390/metabo10090356.
Saioa Marquez; Jose Javier Fernández; Cristina Mancebo; et al. (2019).  Tricarboxylic Acid Cycle Activity and Remodeling of Glycerophosphocholine Lipids Support Cytokine Induction in Response to Fungal Patterns. Cell Reports. Cell Press. 27-2, pp.525. ISSN 2211-1247.  https://doi.org/10.1016/j.celrep.2019.03.033.
Olimpio Montero; Javier Fontecha; M. Pilar Castro-Gómez; Luis-Miguel Rodríguez-Alcalá (2020).  Lipidomic Characterization of the Milk Fat Globule Membrane Polar Lipids. Dairy Fat Products and Functionality.  Springer. pp. 91-108. ISBN 978-3-030-41661-4.  https://doi.org/10.1007/978-3-030-41661-4_5.
Amaia Iriondo-deHond; Olimpio Montero; Yolanda Revilla; Jose Antonio Uranga; Raquel Ábalo; María Dolores del Castillo (2020).  Nutritional Support: Another Treatment for Fighting COVID-19   Functional Foods and Viral Diseases.  Food Science Publisher. pp.93-126. ISBN 979-8675209637.
PATENTS
Patent request. Request No. P202131071. Date 17/11/2021. Record bureau OEPM Madrid. Title: "MÉTODO DE PREDICCIÓN TEMPRANA DE LA EFICIENCIA REPRODUCTIVA EN RUMIANTES" ("A method for early prediction of reproductive efficiency in rumiants").
RUNNING PROJECTS
Endoplasmic reticulum stress/unfolded protein response a critical trigger of cytokine storm in CoVid-19 disease. Consejo Superior de Investigaciones Científicas. SGL2103016. 80.220,00 €.
El metabolismo energético del sistema inmune: una fuente para el desarrollo de nuevas terapéuticas. Ministerio de Economia y Competitividad, Plan Nacional I+D+i. PID2020-113751RB-I00. 157.300,00 €.
Papel del inmunometabolismo en la defensa frente a la infección y en desarrollo de la autoinmunidad. Junta de Castilla y León. Consejería de Educación. VA175P20. 170.000,00 €.
OTHERS
ORCID: 0000-0002-0241-8756
Researcher ID: L-8263-2014
Guest editor of the special issue of the journal Metabolomics (MDPI) with the subject of "Advances in Lipidomics: Biomedicine, Nutrients and Methodology" at https://www.mdpi.com/journal/metabolites/special_issues/advances_lipidomics/, and https://www.mdpi.com/journal/metabolites/special_issues/LBNM2/.
Dissemination: ¿Los alimentos transmiten, previenen y/o curan la COVID-19?. Convocatoria Cuenta la Ciencia 2020. Fundación General CSIC. https://www.youtube.com/playlist?list=PL561J_nXe1-wX3LSHXFPoyX9-fAwI-jom.
METABOLOMICS LINKS
Metabolomics Society (international): https://metabolomicssociety.org/. Member since 2014.
The Metabolomics Innovation Centre (TMIC), : https://www.metabolomicscentre.ca/.
Metabonomics in the Imperial College London: https://www.imperial.ac.uk/department-surgery-cancer/research/cancer/research-areas/metabonomics/.
Metabolomics Australia: https://www.metabolomics.net.au/.
Scripps Center for Metabolomics (USA): https://masspec.scripps.edu/.
Harvard University: https://massspec.fas.harvard.edu/.
Center for Sustainable Resource Science RIKEN, Japan: http://www.csrs.riken.jp/en/labs/mrg/index.html.
Japan Clinical Metabolomics Institute: http://www.jc-metabolomics.com/index_e.html.
Analytical and Clinical Metabolomics Group in Birmingham (UK): https://more.bham.ac.uk/bamcg/; https://www.birmingham.ac.uk/facilities/metabolomics-training-centre/index.aspx.
Human Metabolome DataBase (HMDB): https://hmdb.ca/.
Metlin database: https://metlin.scripps.edu/landing_page.php?pgcontent=mainPage.
LipidMaps: https://www.lipidmaps.org/.
Chemical Entities of Biological Interest (ChEBI): https://www.ebi.ac.uk/chebi/.
Kyoto Encyclopedia of Genes and Genomes, KEGG compound: https://www.genome.jp/kegg/compound/.