Alergia e Inmunidad de Mucosas
Mucosal Immunology and allergy
Team
Postdocts:
PhD students
Research Technician: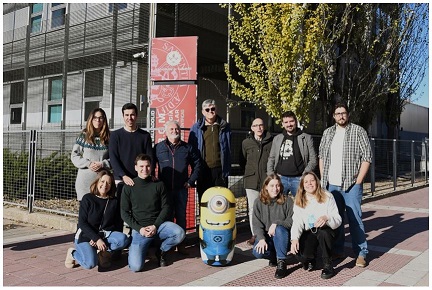 From left to right: Back: Paloma de la Cal, Ángel De Prado, José A. Garrote, Eduardo Arranz, Luis Fernández Salazar, David Bernardo Ordiz,Candido Pérez. Front: Sara Cuesta, Juan Hernández, Stuart S. Minion, Aida Fiz, Elisa Arribas
Location
Mucosal Immunology Lab. Faculty of Medicine. C/ Ramón y Cajal 7, 47005. Valladolid. Telephone: +34 983 18 42 31 (Eduardo Arranz)
Laboratory C1. Instituto de Biología y Genética Molecular. C/ Sanz y Forés 3, 47003. Valladolid. Telephone: +34 983 18 59 78 (David Bernardo)
Research interests
Our research group is devoted to the study of human intestinal mucosal immunology, both in resting conditions as well as under inflammatory processes like coeliac disease and inflammatory bowel disease. To that end, we have established a close interaction with several gastrointestinal units which provide us with biological material (blood and intestinal tissues) from patients and controls. We pay particular attention to both the intraepithelial lymphocytes, as well as to the study of the ontogeny, phenotype and function of human mucosal dendritic cell and macrophage subsets and their circulating precursors in health and under inflammatory conditions. To that end, we have several models of mucosal immunology with human primary samples and access to a top-of-the-art spectral cytometer.
Recently, we have also expanded our interest to study of COVID-19 immune response. In particular, we are interested in the development of novel biomarkers to predict disease outcome, assess the evolution of the immune response, characterize the similarities and differences of the cellular and humoral immune memory in naturally (infected) and artificially (vaccinated) individuals and to unravel the basis underlaying the long-COVID syndrome.
Last, but not least, David Bernardo is also a member of the Executive Committee of the CSIC's Global Health Thematic Interdisciplinary Platform (PTI Global Health, https://pti-saludglobal-covid19.corp.csic.es) which agglutinates over than 200 research groups to fight Global Health problems as this one. Indeed, the PI is also the coordinator (together with Dr. María Montoya) of the WP5: IMMUNE where they supervise the work of 25 independent research groups with a budget over 5 million euros.
Collaborators
Luis Fernández Salazar, Senior Lecturer of Gastroenterology & Gastroenterologist at Hospital Clínico Universitario (Valladolid)
Jesús Barrio. Gastroenterologist at Hospital Universitario Río Hortega (Valladolid)
Alejandro Romero & Beatriz de Andrés. Gut surgeons at Hospital Clínico Universitario (Valladolid)
Javier P. Gisbert. Head of the IBD Unit at Instituto de Investigación Sanitaria Hospital Universitario de la Princesa (Madrid)
Santiago Vivas. Gastroenterology Service at Hospital Universitario de León (León)
Nicolás Navasa Mayo. Universidad de León (León)
Carolina Sousa. Departamento de Microbiología y Parasitología. Universidad de Sevilla. (Seville)
Fernando Chirdo. Laboratorio de Investigación en el Sistema Inmune. Universidad Nacional de La Plata (Argentina)
Antonio Orduña. Professor of mirobiology of Microbiology and Head of the Microbiology Department at Hospital Clinico Universitario (Valladolid)
José María Eiros, Professor of mirobiology of Microbiology and Head of the Microbiology Department at Hospital Universitario Río Hortega (Valladolid)
Eduardo Tamayo, Senior Lecturer and head of the Research Unit at Hospital Clinico Universitario (Valladolid)
Publications in the last 7 years
E Arribas-Rodríguez, L Fernández-Salazar, B de Andrés, E Arranz, JA Garrote, D Bernardo. Study and isolation of human intestinal dendritic cell and macrophage subsets. Methods in Cell Biology. 2023. In press
J J Shin, W Fan, J Par-Young, M Piecychna, L Leng, K Israni-Winger, H Qing, J Gu, H Zhao, W L Schulz, S Unlu, J Kuster, G Young, J Liu, A I Ko, A Baeza Garcia, M Sauler, AV Wisnewski, L Young, A Orduña, A Wang, O Klementina, A Blesa-Garcia, P Hegyi, ME Armstrong, P Mitchell, D Bernardo, A Garami, I Kang, R Bucala. MIF is a Common Genetic Determinant of COVID-19 Symptomatic Infection and Severity. QJM.2022. doi: 10.1093/qjmed/hcac234
CM González-Casimiro, E Arribas-Rodriguez, A Fiz-López, J Casas, S Gutierrez, P Tellería, C Novoa, S Rojo-Rello, E Tamayo, A Orduña, C Dueñas, G Perdomo*, D Bernardo*. Altered surface expression of insulin-degrading enzyme on monocytes and lymphocytes from COVID-19 patients both at diagnosis and after hospital discharge. Int. J. Mol. Sci.2022,23(19), 11070; https://doi.org/10.3390/ijms231911070
COVID-19 Host Genetics Initiative A first update on mapping the human genetic architecture of COVID-19. Nature .2022 Aug;608(7921):E1-E10. doi: 10.1038/s41586-022-04826-7.Epub 2022 Aug 3. * David Bernardo is a member of the COVID-19 Host Genetics Initiative
I Soleto , S Fernández-Tomé S, I Mora-Gutiérrez, M Baldan-Martin, C Ramírez, C Santander, JA Moreno-Monteagudo, MJ Casanova, F Casals, S Casabona, I Becerro, M Chaparro, JP Gisbert*, D Bernardo*. Differential Effects of Anti-TNFα and Anti-α4β7 Drugs on Circulating Dendritic Cells Migratory Capacity in Inflammatory Bowel Disease. Biomedicines. 2022 Aug 4;10(8):1885. doi: 10.3390/biomedicines10081885. *Equal contribution
G Barturen, E Carnero-Montoro, M Martínez-Bueno, S Rojo-Rello, B Sobrino, O Porras, C Alcántara-Domínguez, D Bernardo, M Alarcon-Riquelme. Whole-Blood DNA Methylation Analysis Reveals Respiratory Environmental Traits Involved in COVID-19 Severity Following SARS-CoV-2 Infection. Nature Communications. 2022. NCOMMS-21-29579C]
Raquel Cruz, Silvia Diz-de Almeida, Miguel López Heredia, Inés Quintela, Francisco C Ceballos, Guillermo Pita, José M Lorenzo-Salazar, Rafaela González-Montelongo, Manuela Gago-Domínguez, Marta Sevilla Porras, Jair Antonio Tenorio Castaño, Julian Nevado, Jose María Aguado, Carlos Aguilar, Sergio Aguilera-Albesa, Virginia Almadana, Berta Almoguera, Nuria Alvarez, Álvaro Andreu-Bernabeu, Eunate Arana-Arri, Celso Arango, María J Arranz, Maria-Jesus Artiga, Raúl C Baptista-Rosas, María Barreda-Sánchez, Moncef Belhassen-Garcia, Joao F Bezerra, Marcos A C Bezerra, Lucía Boix-Palop, María Brion, Ramón Brugada, Matilde Bustos, Enrique J Calderón, Cristina Carbonell, Luis Castano , Jose E Castelao, Rosa Conde-Vicente, M Lourdes Cordero-Lorenzana, Jose L Cortes-Sanchez, Marta Corton, M Teresa Darnaude, Alba De Martino-Rodríguez, Victor Campo-Pérez, Aranzazu Diaz Bustamante, Elena Domínguez-Garrido, Andre D Luchessi, Rocío Eirós, Gladys Mercedes Estigarribia Sanabria, María Carmen Fariñas, Uxía Fernández-Robelo, Amanda Fernández-Rodríguez, Tania Fernández-Villa, Belén Gil-Fournier, Javier Gómez-Arrue, Beatriz González Álvarez, Fernan Gonzalez Bernaldo Quirós, Javier González-Peñas, Juan F Gutiérrez-Bautista, María José Herrero, Antonio Herrero-Gonzalez, María A Jimenez-Sousa, María Claudia Lattig, Anabel Liger Borja, Rosario Lopez-Rodriguez, Esther Mancebo, Caridad Martín-López, Vicente Martín, Oscar Martinez-Nieto, Iciar Martinez-Lopez, Michel F Martinez-Resendez, Ángel Martinez-Perez, Juliana A Mazzeu, Eleuterio Merayo Macías, Pablo Minguez, Victor Moreno Cuerda, Vivian N Silbiger, Silviene F Oliveira, Eva Ortega-Paino, Mara Parellada, Estela Paz-Artal, Ney P C Santos, Patricia Pérez-Matute, Patricia Perez, M Elena Pérez-Tomás, Teresa Perucho, Mel Lina Pinsach-Abuin, Ericka N Pompa-Mera, Gloria L Porras-Hurtado, Aurora Pujol, Soraya Ramiro León, Salvador Resino, Marianne R Fernandes, Emilio Rodríguez-Ruiz, Fernando Rodriguez-Artalejo, José A Rodriguez-Garcia, Francisco Ruiz-Cabello, Javier Ruiz-Hornillos, Pablo Ryan, José Manuel Soria, Juan Carlos Souto, Eduardo Tamayo, Alvaro Tamayo-Velasco, Juan Carlos Taracido-Fernandez, Alejandro Teper, Lilian Torres-Tobar, Miguel Urioste, Juan Valencia-Ramos, Zuleima Yáñez, Ruth Zarate, Tomoko Nakanishi, Sara Pigazzini, Frauke Degenhardt, Guillaume Butler-Laporte, Douglas Maya-Miles, Luis Bujanda, Youssef Bouysran, Adriana Palom, David Ellinghaus, Manuel Martínez-Bueno, Selina Rolker, Sara Amitrano, Luisa Roade, Francesca Fava, Christoph D Spinner, Daniele Prati, David Bernardo, Federico Garcia, Gilles Darcis, Israel Fernández-Cadenas, Jan Cato Holter, Jesus M Banales, Robert Frithiof, Stefano Duga, Rosanna Asselta, Alexandre C Pereira, Manuel Romero-Gómez, Beatriz Nafría-Jiménez, Johannes R Hov, Isabelle Migeotte, Alessandra Renieri, Anna M Planas, Kerstin U Ludwig, Maria Buti, Souad Rahmouni, Marta E Alarcón-Riquelme, Eva C Schulte, Andre Franke, Tom H Karlsen, Luca Valenti, Hugo Zeberg, Brent Richards, Andrea Ganna, Mercè Boada, Itziar Rojas, Agustín Ruiz, Pascual Sánchez, Luis Miguel Real, SCOURGE Cohort Group; HOSTAGE Cohort Group; GRA@CE Cohort Group; Encarna Guillen-Navarro, Carmen Ayuso, Anna González-Neira, José A Riancho, Augusto Rojas-Martinez, Carlos Flores , Pablo Lapunzina, Ángel Carracedo. Novel genes and sex differences in COVID-19 severity. Hum Mol Genet. 2022 Jun 16;ddac132.  doi: 10.1093/hmg/ddac132.

A Kousathanas, E Pairo-Castineira, K Rawlik, A Stuckey, C A Odhams, S Walker, C D Russell, T Malinauskas, Y Wu, J Millar, X Shen, K S Elliott, F Griffiths, W Oosthuyzen, K Morrice, S Keating, B Wang, D Rhodes, L Klaric, M Zechner, Nick P, A Siddiq, P Goddard, S Donovan, D Maslove, A Nichol, M G Semple, T Zainy, T Maleady-Crowe, L Todd, S Salehi, J Knight, G Elgar, G Chan, P Arumugam, C Patch, A Rendon, D Bentley, C Kingsley, J A Kosmicki, J E Horowitz, A Baras, G R Abecasis, M A R Ferreira, A Justice, T Mirshahi, M Oetjens, D J Rader, M D Ritchie, A Verma, T A Fowler, M Shankar-Hari, C Summers, C Hinds, P Horby, L Ling, D McAuley, H Montgomery, P J M Openshaw, P Elliott, T Walsh, A Tenesa, GenOMICC Investigators, 23andMe, Covid-19 Human Genetics Initiative*, A Fawkes, L Murphy, K Rowan, C P Ponting, V Vitart, J F Wilson, J Yang, A D Bretherick, R H Scott, S Clohisey Hendry, L Moutsianas, A Law, M J Caulfield, J K Baillie. Whole genome sequencing reveals host factors underlying critical Covid-19. Nature. 2022. doi.org/10.1038/s41586-022-04576-6. * David Bernardo is a member of the COVID-19 Host Genetics Initiative

A Valdés, L Ortega-Moreno, S Rojo-Rello, A Orduña, D Bernardo, A Cifuentes. Metabolomics study of COVID-19 patients in four different clinical stages. Scientific Reports. 2022:1650. doi.org/10.1038/s41598-022-05667-0
A Cossarizza, HD Chang, A Radbruch, S Abrignani, R Addo, M Akdis, I Andrä, F Andreata, F Annunziato, E Arranz, P Bacher, S Bar, V Barnaba, J Barros-Martins, D Baumjohann, CG Beccaria, D Bernardo, DA Boardman, J Borger, C Böttcher, L Brockmann, M Burns, DH Busch, G Cameron, I Cammarata, A Cassotta, Y Chang, FG Chirdo, E Christakou, L ˇCiˇcin-Šain, L Cook, AJ Corbett, R Cornelis, L Cosmi, MS Davey, S De Biasi, G De Simone, G del Zotto, M Delacher, F Di Rosa, J Di Santo, A Diefenbach, J Dong, T Dörner, RJ Dress, CA Dutertre, SBG Eckle, P Eede, M Evrard, CS Falk, M Feuerer, S Fillatreau, A Fiz-Lopez, M Follo, GA Foulds, J Fröbel, N Gagliani, G Galletti, A Gangaev, No Garbi, JA Garrote, J Geginat, NA Gherardin, L Gibellini, F Ginhoux, DI Godfrey, P Gruarin, C Haftmann, L Hansmann, CM Harpur, AC Hayday, G Heine, DC Hernández, M Herrmann, O Hoelsken, Q Huang, S Huber, JE Huber, J Huehn, M Hundemer, WYK Hwang, M Iannacone, SM Ivison, HM Jäck, PK Jani, B Keller, N Kessler, S Ketelaars, L Knop, J Knopf, HF Koay, K Kobow, K Kriegsmann, H Kristyanto, A Krueger, JF Kuehne, H Kunze-Schumacher, P Kvistborg, I Kwok, D Latorre, D Lenz, MK Levings, AC Lino, F Liotta, HM Long, E Lugli, KN MacDonald, L Maggi, MK Maini, F Mair, C Manta, RA Manz, MF Mashreghi, A Mazzoni, J McCluskey, HE Mei, F Melchers, S Melzer, D Mielenz, L Monin, L Moretta, G Multhoff, LE Muñoz, M Muñoz-Ruiz, F Muscate, A Natalini, K Neumann, LG Ng, A Niedobitek, J Niemz, LN Almeida, S Notarbartolo, L Ostendorf, LJ Pallett, AA Patel, GI Percin, G Peruzzi, M Pinti, AG Pockley, K Pracht, I Prinz, I Pujol-Autonell, N Pulvirenti, L Quatrini, KM Quinn, H Radbruch, H Rhys, MB Rodrigo, C Romagnani, C Saggau, S Sakaguchi, F Sallusto, L Sanderink, I Sandrock, C Schauer, A Scheffold, HU Scherer, M Schiemann, FA Schildberg, K Schober, J Schoen, W Schuh, T Schüler, AR Schulz, S Schulz, J Schulze, S Simonetti, J Singh, KM Sitnik, R Stark, S Starossom, C Stehle, F Szelinski, L Tan, A Tarnok, J Tornack, TIM Tree, JJP van Beek, W van de Veen, K van Gisbergen, C Vasco, NA Verheyden, A von Borstel, KA Ward-Hartstonge, K Warnatz, C Waskow, A Wiedemann, A Wilharm, J Wing, O Wirz, J Wittner, JHM Yang, J Yang. Guidelines for the use of flow cytometry and cell sorting in immunological studies (third edition). Eur J Immunol, 2021 Dec;51(12):2708-3145. doi: 10.1002/eji.202170126
A Tamayo-Velasco, MJ Peñarrubia Ponce, FJ Álvarez, H Gonzalo-Benito, I de la Fuente, S Pérez-González, L Rico, MT Jiménez García, A Sánchez Rodríguez, M Hijas Villaizan, M Martín-Fernández, C Dueñas, E Gómez-Sánchez, M Heredia-Rodríguez, O Gorgojo-Galindo, I Fernández, L del Río, I Carnicero-Frutos, MF Muñoz-Moreno, E Tamayo*, E Martínez-Paz*, D Bernardo*. Can the cytokine profile according to ABO blood groups be related to worse outcome in COVID-19 patients? Yes, they can. Frontiers in Immunology, 2021, https://doi.org/10.3389/fimmu.2021.726283. Equal contribution

T Nakanishi, S Pigazzini, F Degenhardt, M Cordioli, G Butler-Laporte, D Maya-Miles, L Bujanda, Y Bouysran, M Niemi, A Palom, D Ellinghaus, A Khan, M Martínez-Bueno, S Rolker, S Amitrano, LR Tato, Fava, FinnGen, The COVID-19 Host Genetics Initiative, CD Spinner, D Prati, D Bernardo, F Garcia, G Darcis, I Fernández-Cadenas, JC Holter, JM Banales, R Frithiof, K Kiryluk, S Duga, R Asselta, AC Pereira, M Romero-Gómez, B Nafría-Jiménez, JR Hov, I Migeotte, A Renieri, AM Planas, KU Ludwig, M Buti, S Rahmouni, ME Alarcón-Riquelme, EC Schulte, A Franke, TH Karlsen, L Valenti, H Zeberg, JB Richards, A Ganna. Age-dependent impact of the major common genetic risk factor for COVID-19 on severity and mortality. J Clin Invest. 2021 doi: 10.1172/JCI152386.
D Reddi*, L Durant*, D Bernardo, A Noble, NR English, P Hendy, GC Clark, JL Prior, ED Williamson, SC Knight. In Vitro Priming of Human T Cells by Dendritic Cells Provides a Screening Tool for Candidate Vaccines for B. pseudomallei. Vaccines 2021, 9(8), 929; https://doi.org/10.3390/vaccines9080929* Equal contribution./li>. Equal contribution
A Tamayo-Velasco, MJ Peñarrubia-Ponce, FJ Álvarez, H Gonzalo-Benito, I de la Fuente, M Martín-Fernández, JM Eiros, P Martínez-Paz, JP Miramontes-González, A Fiz-López, E Arribas-Rodríguez, P Cal-Sabater, R Aller, C Dueñas, M Heredia-Rodríguez, E Tamayo*, E Gómez-Sánchez*, D Bernardo*. Evaluation of Cytokines as Robust Diagnostic Biomarkers for COVID-19 Detection. J. Pers. Med. doi: 10.3390/jpm11070681. *Equal contribution.
A Tamayo-Velasco, P Martínez-Paz, MJ Peñarrubia-Ponce, I de la Fuente, S Pérez-González, I Fernández, C Dueñas,  E Gómez-Sánchez, M Lorenzo-López, E Gómez-Pesquera, M Heredia-Rodríguez, I Carnicero-Frutos, MF Muñoz-Moreno, D Bernardo, FJ Álvarez, E Tamayo, H Gonzalo-Benit. 2-HGF, IL-1α and IL-27 are robust biomarkers in early severity stratification of COVID-19 patients. J Clin Med. 2021;10(9):2017.  doi: 10.3390/jcm10092017.
S Fernández-Tomé, P Indiano-Romacho, I Mora-Gutiérrez, L Pérez-Rodríguez, L Ortega Moreno, AC Marin, M Baldán-Martín, JA Moreno-Monteagudo, C Santander, M Chaparro, B Hernández-Ledesma, JP Gisbert, D Bernardo. Lunasin peptide is a modulator of the immune response in the human gastrointestinal tract. Mol Nutr Food Res. 2021 Jun;65(12):e2001034
A Morales, S Rojo Rello, H Cristóbal, A Fiz-López, E Arribas, M Marí, A Tutusaus, P de la Cal-Sabater, G A F. Nicolaes, J T. Ortiz, D Bernardo, P García de Frutos. Growth Arrest-Specific Factor 6 (GAS6) is Increased in COVID-19 Patients and Predicts Clinical Outcome. Biomedicines. 2021 Mar 26;9(4):335.  doi: 10.3390/biomedicines9040335.
E J Laserna-Mendieta, J A FitzGerald, L Arias-Gonzalez, J M Ollala, D Bernardo, M J Claesson, A J Lucendo. Esophageal microbiome in active eosinophilic esophagitis and changes induced by different therapies. Sci Rep 2021 Mar 29;11(1):7113. doi: 10.1038/s41598-021-86464-z.
L Ortega-Moreno, S Fernández-Tomé, M Chaparro, AC Marin, I Mora-Gutiérrez, C Santander, M Baldan-Martin, JP Gisbert, D. Bernardo. Profiling of Human Circulating Dendritic Cells and Monocyte Subsets Discriminates Between Type and Mucosal Status in Patients With Inflammatory Bowel Disease. Inflamm Bowel Dis. 2021 Jan 19;27(2):268-274.  doi: 10.1093/ibd/izaa151.
E Arranz, A De Prado, A Fiz-López, E Arribas, JA Garrote, D Bernardo. Human intestinal dendritic cell and macrophage subsets in coeliac disease. International Review of Cell and Molecular Biology. 2020. 1016/bs.ircmb.2020.09.006
L Ortega Moreno, A Sanz-Garcia, MJ Fernández de la Fuente, R Arroyo Solera, S Fernández-Tomé, AC Marin, I Mora-Gutierrez, P Fernández, M Baldan-Martin, M Chaparro, JP Gisbert, DBernardo.
Serum adipokines as non-invasive biomarkers in Crohn's disease. Sci Rep. 2020 Oct 22;10(1):18027. doi: 10.1038/s41598-020-74999-6.
C Alba, AC Marin, AG McNicholl, A Montalban-Arques, I Mora-Gutierrez, AJ Sánchez-Arroyo, T Soler, D García-Fresnadillo, JP Gisbert, T Alarcón, D Bernardo. A quick flow cytometry protocol to assess Helicobacter pylori viability. J Microbiol Methods. 2020 Oct;177:106043. doi: 10.1016/j.mimet.2020.106043.
Burgueño Gómez B, Escudero-Hernández C, de Pedro R, Montalvillo E, Bernardo D, García-Lagarto E, Garrote Adrados JA, Arranz Sanz E, Fernández Salazar L. Duodenal lymphogram as a complementary tool in the diagnosis of celiac disease in adults. Rev Esp Enferm Dig.2020 Feb 5. doi: 10.17235/reed.2020.6391/2019
M Chaparro, I Guerra, M Iborra, JL Cabriada, L Bujanda, C Taxonera, V García-Sánchez, I Marín-Jiménez, M Barreiro-de Acosta, I Vera, MD Martín-Arranz, B Hernández-Breijo, F Mesonero, L Sempere, F Gomollón, J Hinojosa, F Bermejo, B Beltrán, A Rodríguez-Pescador, JM Banales, D Olivares, P Aguilar-Melero, L Menchén, R Ferreiro-Iglesias, I Blazquez Gomez, B Benítez-García, LG Guijarro, AC Marin, JP Gisbert*, D Bernardo*.  Usefulness of Monitoring Antitumor Necrosis Factor Serum Levels During the Induction Phase in Patients with Crohn's Disease. Eur J Gastroenterol Hepatol. 2020 May;32(5):588-596. * Equal contribution
C Escudero-Hernández, A Martín, R de Pedro Andrés, L Fernández-Salazar, JA Garrote, D Bernardo, E Arranz. Circulating Dendritic Cells From Celiac Disease Patients Display a Gut-Homing Profile and Are Differentially Modulated by Different Gliadin-Derived Peptides. Mol Nutr Food Res. 2020; 64(6):e1900989.  doi: 10.1002/mnfr.201900989.
Escudero-Hernández C,Martín Á, de Pedro Andrés R, Fernández-Salazar L, Garrote JA, Bernardo D, Arranz E. Circulating Dendritic Cells from Celiac Disease Patients Display a Gut-Homing Profile and are Differentially Modulated by Different Gliadin-Derived Peptides. Mol Nutr Food Res. 2020 Jan 23:e1900989. doi: 10.1002/mnfr.201900989
Escudero-Hernández C,Montalvillo E, Antolín B, Bernardo D, Garrote JA, Arranz E, Fernández-Salazar L. Different Intraepithelial CD3+ Cell Numbers in Crohn's Disease and Ulcerative Colitis. Inflamm Bowel Dis. 2020 Feb 11;26(3):e14-e15. doi: 10.1093/ibd/izz309.
M Chaparro, A Aterido, I Guerra, M Iborra, JL Cabriada, L Bujanda, C Taxonera, V García-Sánchez, I Marín-Jiménez, M Barreiro-de Acosta, I Vera, MD Martín-Arranz, B Hernández-Breijo, F Mesonero, L Sempere, F Gomollón, J Hinojosa, F Bermejo, B Beltrán, A Rodríguez-Pescador, JM Banales, D Olivares, P Aguilar-Melero, L Menchén, R Ferreiro-Iglesias, I Blazquez Gómez, B Benitez García, LG Guijarro, AC Marin, D Bernardo, S Marsal, A Julia, JP Gisbert. Functional rare variants influence the clinical response to anti-TNF therapy in Crohn's disease. Therap Adv Gastroenterol. 2019; 12: 1756284819867848.doi: 10.1177/1756284819867848
Fernández-Tomé S, Marin AC, Ortega Moreno L, Baldan-Martin M, Mora-Gutiérrez I, Lanas-Gimeno A, Moreno-Monteagudo JA, Santander C, Sánchez B, Chaparro M,Gisbert JP, Bernardo  Immunomodulatory Effect of Gut Microbiota-Derived Bioactive Peptides on Human Immune System from Healthy Controls and Patients with Inflammatory Bowel Disease. Nutrients. 2019 Oct 31;11(11). pii: E2605. doi: 10.3390/nu11112605.
L Vaquero L, D Bernardo, F León, L Rodríguez-Martín, B Alvarez-Cuenllas, S Vivas. Challenges to drug discovery for celiac disease and approaches to overcome them. Expert Opin Drug Discov. 2019 Oct;14(10):957-968. doi: 10.1080/17460441.2019.1642321
Fernández-Tomé S, Hernández-Ledesma B, Chaparro M, Indiano-Romacho P, Gisbert, JP, Bernardo, D. Role of food proteins and bioactive peptides in inflammatory bowel disease. Trends in Food Science & Technology. 2019 Volume 88,June 2019, Pages 194-206.*equal contribution
M Chaparro, A Garre, MF Guerra-Veloz, JM Vázquez, ML De Castro, E Leo, E Rodriguez, AY Carbajo, S Riestra, I Jiménez, X Calvet, L Bujanda, M Rivero, F Gomollón, JM Benítez, F Bermejo, N Alcaide, A Gutiérrez, M Mañosa, M Iborra, R Lorente, M Rojas, M Barreiro-de Acosta, L Kolle, M Van Domselaar, V Amo, F Argüelles, E Ramírez, A Morell, D Bernardo, JP Gisbert. Effectiveness and safety of the switch from RemicadeÒ to CT-P13 in patients with inflammatory bowel disease. J Crohns Colitis. 2019. doi: 10.1093/ecco-jcc/jjz070
M Chaparro, A Garre, E Ricart, E Iglesias-Flores, C Taxonera, E Domènech, JP Gisbert, ENEIDA study group*. Differences between childhood and adulthood-onset inflammatory bowel disease: the CAROUSEL Study form GETECCU. Aliment Pharmacol Ther. 2019. 49(4):419-428. * David Bernardo is a member of the ENEIDA study group.
Martínez-López, S. Iborra, R. Conde-Garrosa, A. Mastrangelo, C. Danne, E.R. Mann, D.M. Reid, V. Gaboriau-Routhiau, M. Chaparro, M.P. Lorenzo, L. Minnerup, P. Saz-Leal, E. Slack, B. Kemp, J.P. Gisbert, A. Dzionek, M.J. Robinson, F.J. Rupérez, N. Cerf-Bensussan, G.D. Brown, D. Bernardo, S. LeibundGut-Landmann, D. Sancho. Microbiota sensing by Mincle-Syk axis in dendritic cells regulates IL-17 and IL-22 and promotes intestinal immune barrier. Immunity. 2019. 50. 1-16.
Fernández-Tomé, A. Montalbán-Arques, A. Díaz-Guerra, J.M. Galvan-Román, A.C. Marín, I. Mora-Gutiérrez, L. Ortega-Moreno, C. Santander, B. Sánchez, M. Chaparro, J.P. Gisbert, D. Bernardo. Peptides encrypted in the human intestinal microbial-exoproteome as novel biomarkers and immunomodulatory compounds in the gastrointestinal tract. Journal of Functional Foods. 2019. 52. 459-468
Chaparro, M. Barreiro-de Acosta, A. Echarri, R. Almendros, J. Barrio, J. Llao, F. Gomollón, M. Vera, J.L. Cabriada, J. Guardiola, I. Guerra, B. Beltrán, O. Roncero, D. Busquets, C. Taxonera, X. Calvet, R. Ferreiro-Iglesias, V. Ollero Pena, D. Bernardo, M.G. Donday, A. Garre, A. Godino, A. Díaz, J.P. Gisbert. Correlation between anti-TNF serum levels and endoscopic inflammation in inflammatory bowel disease patients. Dig Dis Sci. 2019 Mar;64(3):846-854.
E. Arranz, J.R. Bilbao, D. Bernardo, J. Tye-Din. Patogenia: influencia de los virus y microbiota en la respuesta inmune intestinal. Gastroenterología y Hepatología. 2018. 41. 12-14.
Chaparro M, Garre A, Ricart E, Iborra M, Mesonero F, Vera I, Riestra S, García-Sánchez V, Luisa De Castro M, Martin-Cardona A, Aldeguer X, Mínguez M, de-Acosta MB, Rivero M, Muñoz F, Andreu M, Bargalló A, González-Muñoza C, Pérez Calle JL, García-Sepulcre MF, Bermejo F, Huguet JM, Cabriada JL, Gutiérrez A, Mañosa M, Villoria A, Carbajo AY, Lorente R, García-López S, Piqueras M, Hinojosa E, Arajol C, Sicilia B, Conesa AM, Sainz E, Almela P, Llaó J, Roncero O, Camo P, Taxonera C, Domselaar MV, Pajares R, Legido J, Madrigal R, Lucendo AJ, Alcaín G, Doménech E, Gisbert JP; GETECCU study group. Short and long-term effectiveness and safety of vedolizumab in inflammatory bowel disease: results from the Spanish ENEIDA registry. Aliment Pharmacol Ther.. 2018. Aliment Pharmacol Ther. 2018 Oct;48(8):839-851.* David Bernardo is a member of the GETECCU study group.
Bernardo, A.C. Marin, S. Fernández-Tomé, A. Montalban-Arques, A. Carrasco, E. Tristán, L. Ortega Moreno, I. Mora-Gutiérrez, A. Díaz-Guerra, R. Caminero-Fernández, P. Miranda, F. Casals, M. Caldas, M. Jiménez, S. Casabona, F. De la Morena, M. Esteve, C. Santander,  M. Chaparro*, J.P. Gisbert*. Human intestinal pro-inflammatory CD11chighCCR2+CX3CR1+ macrophages, but not their tolerogenic CD11c-CCR2-CX3CR1- counterparts, are expanded in inflammatory bowel disease. Mucosal Immunol. 2018. Jul;11(4):1114-1126. doi: 10.1038/s41385-018-0030-7
Montalban-Arques, M. Chaparro, J.P. Gisbert, D. Bernardo. The innate immune system in the gastrointestinal tract: role of intraepithelial lymphocytes and lamina propria innate lymphoid cells in intestinal inflammation. Inflamm Bowel Dis. 2018. 2018 Jul 12;24(8):1649-1659. doi: 10.1093/ibd/izy177.
Arias, m. Vicario, D. Bernardo, J.M Olalla, M. Fortea, A. Montalban-Arques, P. Martínez-Fernández, A.M González-Castro, T. Mota-Huertas, L. Arias-González, A.J. Lucendo. Toll-like Receptors-Mediated Pathways Activate Inflammatory Responses in the Esophageal Mucosa of Adult Eosinophilic Esophagitis. Clin Transl Gastroenterol. 2018. 9(4):147. Doi: 10.1038/s41424-018-0017-4.
Bernardo, M. Chaparro*, J.P. Gisbert*. Human intestinal dendritic cells in inflammatory bowel diseases. Mol Nutr Food Res. 2018, 62, 1700931. doi: 10.1002/mnfr.201700931. *equal contribution.
P Salvador, DC Macías-Ceja, L Gisbert-Ferrándiz, C. Hernández, D. Bernardo, R. Alós, F. Navarro-Vicente, JV Esplugues, D Ortiz-Masiá, M Dolores Barrachina, S. Calatayud. CD16+ macrophages mediate fibrosis in inflammatory bowel disease. J Crohns Colitis. 2018. 12(5):589-599. doi: 10.1093/ecco-jcc/jjx185.
G Malietzis, GH Lee, HO Al-Hassi, D Bernardo, AIF Blakemore, RH Kennedy, M Moorghen, JT Jenkins, SC Knight. Body Composition of the Host Influences Dendritic Cell Phenotype in Patients Treated for Colorectal Cancer. Tumor Biology. 2016 Aug;37(8):11359-64. doi: 10.1007/s13277-016-5009-y.
C Escudero-Hernández, AS Peña, D Bernardo. Immunogenetic Pathogenesis of Celiac Disease and Non-celiac Gluten Sensitivity. Curr Gastroenterol Rep. 2016;18(7):36. doi: 10.1007/s11894-016-0512-2.
D Bernardo*, R Vora*, L Durant, D Reddi, AL Hart, JME Fell, HO Al-Hassi, SC Knight. Age-related alterations in blood and colonic dendritic cell properties. Oncotarget. 2016. 7(11):11913-22. doi: 10.18632/oncotarget.7799. *Equal contribution
B Martínez-Abad, JA Garrote, D Bernardo, E Montalvillo, C Escudero-Hernández, E Vázquez, R Rueda, E Arranz. Differential immunomodulatory effet of Lactobacillus rhamnosus DR20, Lactobacillus  fermentum CECT 5716 and Bifidobacterium animalis subsp. Lactis on monocyte-derived dendritic cells. Journal of Functional Foods. 2016. Volume 22, Pages 300-312. doi:10.1016/j.jff.2016.01.033.
I Comino,D Bernardo, E Bancel, ML Moreno, B Sánchez, F Barro, T Suligoj, PJ Ciclitira, A Cebolla, SC Knight, G Branlard, C Sousa. Identification of oat peptides implicated on coeliac immune response. Food Nutr Res. 2016 Feb 5;60:30324. doi: 10.3402/fnr.v60.30324.
D Bernardo, L Durant, ER Mann, E Bassity, E Montalvillo, R Man, R Vora, D Reddi, F Bayiroglu, L Fernández-Salazar, NR English, STC Peake, J Landy, GH Lee, G Malietzis, YH Siaw, AU Murugananthan, P Hendy,  E Sánchez-Recio, RKS Phillips, JA Garrote, P Scott, J Parkhill, M Paulsen, AL Hart, HO Al-Hassi, E Arranz, AW Walker, SR Carding, SC Knight. Chemokine (C-C Motif) Receptor 2 mediates dendritic cell recruitment to the human colon but is not responsible for differences observed in dendritic cell subsets, phenotype and function between the proximal and distal colon. Cell Mol Gastroenterol Hepatol. 2016. Volume 2, Issue 1, Pages 22-39 DOI: http://dx.doi.org/10.1016/j.jcmgh.2015.08.006
ER Mann, D Bernardo, NR English, J Landy, HO Al-Hassi, STC Peake, R Man, T Elliott, H Spranger, GH Lee, A Parian, S Brant, M Lazarev, AL Hart, X Li and SC Knight. Compartment-specific immunity in the human gut; properties and functions of dendritic cells in the colon versus the ileum. Gut. 2016 Feb;65(2):256-70
ACTIVE FUNDED PROJECTS
Beca Básica GETECCU. Caracterización del Inmunoma intestinal en la enfermedad inflamatoria intestinal: similitudes y diferencias entre la enfermedad de Crohn y la colitis Ulcerosa. 2022-2024. 12.000€. PI David Bernardo
I beca investigación GEICYL. Nuevos abordajes de Big Data para el estudio de los microorganismos entéricos y sus relaciones en la enfermedad inflamatoria intestinal. 2022-2023. 10.000€. PI Luiz Fernández Salazar
Infraestructura en Red de Castilla y Leon (INFRARED) (IR2021-UVA04). Citómetro tipo sorter espectral de 3 láseres y 38 detectores. 2022-2026. 484.237€€. PI David Bernardo
Búsqueda de biomarcadores con utilidad en la práctica clínica en los pacientes con hepatocarcinoma recién diagnosticado (PRDVL222467GONZ). Predoctorales Valladolid AECC 2022. Contrato Pre-doctoral a Carolina González de Castro. 2022-2026. 88.000€. PI David Bernardo
Gerencia Regional de Salud de Castilla y León (GRS 2367A/21). Reclutamiento y condicionamiento de las sub-poblaciones de monocitos circulantes y macrófagos en la mucosa de pacientes con enfermedad inflamatoria intestinal. 2022-2023. 15.580€. Research Collaborator
PTI Salud Global+ CSIC. WP7. (SGL21-03-026). Caracterización de la memoria celular y humoral en respuesta a COVID-19 2021-2023. 179.800€. PI: David Bernardo
PTI Salud Global+ CSIC. WP5. COVID-19 diagnose (SGL2021-03-038) 2021-2023. 42.546,93€. PI: David Bernardo
Infraestructura en Red de Castilla y Leon (INFRARED) (IR2020-1-UVA01). Citómetro espectral equipado con 5 láseres (355 nm, 405 nm, 488 nm, 561 nm, 638 nm) y con 67 detectores. 2020-2024. 490.520€. PI: David Bernardo
Proyectos de I+D+i», en el marco de los Programas Estatales de Generación de Conocimiento y Fortalecimiento Científico y Tecnológico del Sistema de I+D+i y de I+D+i Orientada a los Retos de la Sociedad, del Plan Estatal de Investigación Científica y Técnica y de Innovación 2017-2020 (PID2019-104218RB-I00). 2020-2023. Migración y diferenciación de las subpoblaciones de células dendríticas y monocitos en la mucosa intestinal de pacientes con enfermedad inflamatoria intestinal. 139.150€. PI: David Bernardo
Pfizer (54211793). 2020-2023. Immunomodulatory effect of tofacitinib on human intestinal dendritic cell subsets from patients with ulcerative colitis. 28,750€. PI: David Bernardo 
MEDIA APEARANCES:
TV
Divulgation posts
https://www.dciencia.es/celulas-dendriticas-comandantes-en-jefe-del-sistema-inmune/
https://www.dciencia.es/salmon-transgenico/
https://www.dciencia.es/pildora-celiaca/
https://www.dciencia.es/un-virus-detras-de-la-enfermedad-celiaca/
https://www.dciencia.es/subpoblaciones-de-macrofagos-en-el-intestino-humano/
https://www.dciencia.es/la-segunda-ola-covid-19/
https://www.dciencia.es/breve-diccionario-de-inmunologia/
https://www.dciencia.es/que-podemos-aprender-de-la-pandemia-desde-el-punto-de-vista-de-la-inmunologia/
https://www.dciencia.es/analisis-de-las-investigaciones-y-avances-en-torno-a-la-covid-19/
https://www.dciencia.es/como-evolucionan-los-virus-y-como-nos-puede-afectar/
https://www.dciencia.es/biomarcadores-para-la-enfermedad-de-crohn/
https://www.dciencia.es/perfil-de-celulas-dendriticas-y-monocitos-en-sangre-en-la-enfermedad-inflamatoria-intestinal/
https://theconversation.com/tendre-que-llevar-mascarilla-despues-de-la-vacuna-ontra-la-covid-19-152395
https://theconversation.com/no-mas-dudas-sobre-las-vacunas-todo-lo-que-debe-saber-153385
https://www.innovaspain.com/david-bernardo-inmunidad-vacunas-covid-19-sars-cov-2/
https://www.lasexta.com/programas/equipo-investigacion/noticias/no-no-todos-tenemos-que-comer-sin-gluten-desmontamos-los-mitos-del-gluten-free-video_201902155c6734200cf2363fe69bbba2.html/
https://www.youtube.com/watch?v=rBMosUmbxKU/
https://vimeo.com/user72849032/review/788931358/2700c7c9da/
https://www.youtube.com/watch?v=_rsOxsp6ZdQ/