Alergia e Inmunidad de Mucosas
Mucosal Immunology and allergy
Team
Postdocts:
PhD students
MsC students
Research Technician: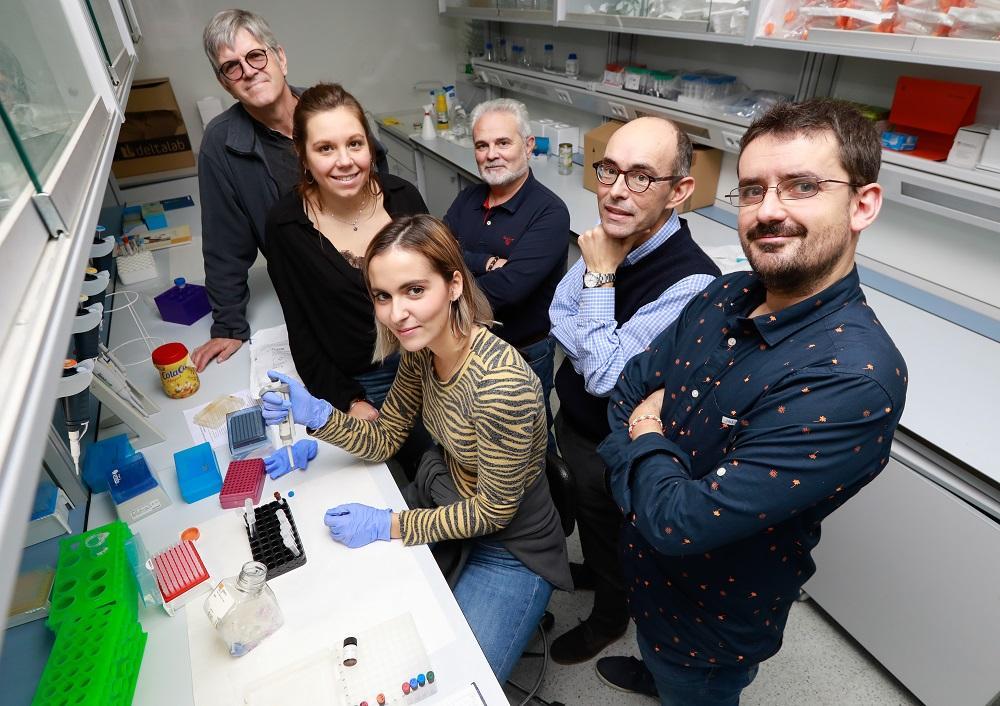 From left to right: Eduardo Arranz, Elisa Arribas, Carlota Rivera, José A. Garrote, Luís Fernández-Salazar and David Bernardo
Location
Mucosal Immunology Lab. Faculty of Medicine. C/ Ramón y Cajal 7, 47005. Valladolid. Telephone: +34 983 18 42 31 (Eduardo Arranz)
Laboratory C1. Instituto de Biología y Genética Molecular. C/ Sanz y Forés 3, 47003. Valladolid. Telephone: +34 983 18 59 78 (David Bernardo)
Research interests
Our research group is devoted to the study of human intestinal mucosal immunology, both in resting conditions as well as under inflammatory processes like coeliac disease and inflammatory bowel disease. To that end, we have established a close interaction with several gastrointestinal units which provide us with biological material (blood and intestinal tissues) from patients and controls. We pay particular attention to both the intraepithelial lymphocytes, as well as to the study of the ontogeny, phenotype and function of human mucosal dendritic cell and macrophage subsets and their circulating precursors in health and under inflammatory conditions.
Collaborators
Luis Fernández Salazar, Senior Lecturer of Gastroenterology & Gastroenterologist at Hospital Clínico Universitario (Valladolid)
Jesús Barrio. Gastroenterologist at Hospital Universitario Río Hortega (Valladolid)
Alejandro Romero & Beatriz de Andrés. Gut surgeons at Hospital Clínico Universitario (Valladolid)
Javier P. Gisbert. Head of the IBD Unit at Instituto de Investigación Sanitaria Hospital Universitario de la Princesa (Madrid)
Santiago Vivas. Gastroenterology Service at Hospital Universitario de León (León)
Nicolás Navasa Mayo. Universidad de León (León)
Carolina Sousa. Departamento de Microbiología y Parasitología. Universidad de Sevilla. (Seville)
Fernando Chirdo. Laboratorio de Investigación en el Sistema Inmune. Universidad Nacional de La Plata (Argentina)
Media appearances
Publications in the last 6 years
Burgueño Gómez B, Escudero-Hernández C, de Pedro R, Montalvillo E, Bernardo D, García-Lagarto E, Garrote Adrados JA, Arranz Sanz E, Fernández Salazar L. Duodenal lymphogram as a complementary tool in the diagnosis of celiac disease in adults. Rev Esp Enferm Dig. 2020 Feb 5. doi: 10.17235/reed.2020.6391/2019
Escudero-Hernández C, Martín Á, de Pedro Andrés R, Fernández-Salazar L, Garrote JA, Bernardo D, Arranz E.Circulating Dendritic Cells from Celiac Disease Patients Display a Gut-Homing Profile and are Differentially Modulated by Different Gliadin-Derived Peptides. Mol Nutr Food Res. 2020 Jan 23:e1900989. doi: 10.1002/mnfr.201900989
Escudero-Hernández C, Montalvillo E, Antolín B, Bernardo D, Garrote JA, Arranz E, Fernández-Salazar L.Different Intraepithelial CD3+ Cell Numbers in Crohn's Disease and Ulcerative Colitis. Inflamm Bowel Dis. 2020 Feb 11;26(3):e14-e15. doi: 10.1093/ibd/izz309.
Vaquero L, Bernardo D, León F, Rodríguez-Martín L, Alvarez-Cuenllas B, Vivas S. Challenges to drug discovery for celiac disease and approaches to overcome them. Expert Opin Drug Discov. 2019 Oct;14(10):957-968. doi: 10.1080/17460441.2019.1642321
Fernández-Tomé S, Marin AC, Ortega Moreno L, Baldan-Martin M, Mora-Gutiérrez I, Lanas-Gimeno A, Moreno-Monteagudo JA, Santander C, Sánchez B, Chaparro M, Gisbert JP, Bernardo D.Immunomodulatory Effect of Gut Microbiota-Derived Bioactive Peptides on Human Immune System from Healthy Controls and Patients with Inflammatory Bowel Disease.Nutrients. 2019 Oct 31;11(11). pii: E2605. doi: 10.3390/nu11112605.
Fernández-Tomé S, Hernández-Ledesma B, Chaparro M, Indiano-Romacho P, Gisbert, JP, Bernardo, D.Role of food proteins and bioactive peptides in inflammatory bowel disease. Trends in Food Science & Technology. 2019Volume 88, June 2019, Pages 194-206.
Comino I, Segura V, Ortigosa L, Espín B, Castillejo G, Garrote JA, Sierra C, Millán A, Ribes-Koninckx C, Román E, Rodríguez-Herrera A, Díaz J, Silvester JA, Cebolla Á, Sousa C. Prospective longitudinal study: use of faecal gluten immunogenic peptides to monitor childrendiagnosed with coeliac disease during transition to a gluten-free diet. Aliment Pharmacol Ther. 2019 Jun;49(12):1484-1492. doi: 10.1111/apt.15277. Epub 2019 May 10.
S. Fernández-Tomé, A. Montalbán-Arques, A. Díaz-Guerra, J.M. Galvan-Román, A.C. Marín, I. Mora-Gutiérrez, L. Ortega-Moreno, C. Santander, B. Sánchez, M. Chaparro, J.P. Gisbert, D. Bernardo. Peptides encrypted in the human intestinal microbial-exoproteome as novel biomarkers and immunomodulatory compounds in the gastrointestinal tract . Journal of Functional Foods. 2019. 52. 459-468.
D. Bernardo, A.C. Marin, S. Fernández-Tomé, A. Montalban-Arques, A. Carrasco, E. Tristán, L. Ortega Moreno, I. Mora-Gutiérrez, A. Díaz-Guerra, R. Caminero-Fernández, P. Miranda, F. Casals, M. Caldas, M. Jiménez, S. Casabona, F. De la Morena, M. Esteve, C. Santander, M. Chaparro*, J.P. Gisbert*. Human intestinal pro-inflammatory CD11chighCCR2+CX3CR1+ macrophages, but not their tolerogenic CD11c-CCR2-CX3CR1- counterparts, are expanded in inflammatory bowel disease. Mucosal Immunol. 2018. Jul;11(4):1114-1126. doi: 10.1038/s41385-018-0030-7
Escudero-Hernández C, Plaza-Izurieta L, Garrote JA, Bilbao JR; CEGEC, Arranz E.Association of the IL-15 and IL-15Rα genes with celiac disease. Cytokine. 2017 Nov;99:73-79. doi: 10.1016/j.cyto.2017.07.009. Epub 2017 Jul 23.
B Martínez-Abad, JA Garrote, D Bernardo, E Montalvillo, C Escudero-Hernández, E Vázquez, R Rueda, E Arranz. Differential immunomodulatory effet of Lactobacillus rhamnosus DR20, Lactobacillus fermentum CECT 5716 and Bifidobacterium animalis subsp. Lactis on monocyte-derived dendritic cells. Journal of Functional Foods. 2016. Volume 22, Pages 300-312. doi:10.1016/j.jff.2016.01.033.
D Bernardo, L Durant, ER Mann, E Bassity, E Montalvillo, R Man, R Vora, D Reddi, F Bayiroglu, L Fernández-Salazar, NR English, STC Peake, J Landy, GH Lee, G Malietzis, YH Siaw, AU Murugananthan, P Hendy, E Sánchez-Recio, RKS Phillips, JA Garrote, P Scott, J Parkhill, M Paulsen, AL Hart, HO Al-Hassi, E Arranz, AW Walker, SR Carding, SC Knight.Chemokine (C-C Motif) Receptor 2 mediates dendritic cell recruitment to the human colon but is not responsible for differences observed in dendritic cell subsets, phenotype and function between the proximal and distal colon. Cell Mol Gastroenterol Hepatol. 2016. Volume 2, Issue 1, Pages 22-39 DOI: http://dx.doi.org/10.1016/j.jcmgh.2015.08.006
Comino I, Fernández-Bañares F, Esteve M, Ortigosa L, Castillejo G, Fambuena B, Ribes-Koninckx C, Sierra C, Rodríguez-Herrera A, Salazar JC, Caunedo Á, Marugán-Miguelsanz JM, Garrote JA, Vivas S, Lo Iacono O, Nuñez A, Vaquero L, Vegas AM, Crespo L, Fernández-Salazar L, Arranz E, Jiménez-García VA, Antonio Montes-Cano M, Espín B, Galera A, Valverde J, Girón FJ, Bolonio M, Millán A, Cerezo FM, Guajardo C, Alberto JR, Rosinach M, Segura V, León F, Marinich J, Muñoz-Suano A, Romero-Gómez M, Cebolla Á, Sousa C. Fecal gluten peptides reveal limitations of serological tests and food questionnaries for monitoring gluten-free diet in celiac disease patients. Am J Gastroenterol. 2016 Oct;111(10):1456-1465. doi: 10.1038/ajg.2016.439. Epub 2016 Sep 20
E Montalvillo, D Bernardo, B Martinez-Abad, C Escudero-Hernandez, S Vallejo-Diez, Y Allegretti, L Fernandez-Salazar, C Calvo, FG Chirdo, J A Garrote, E Arranz. Increased intraepithelial Vα24 invariant NKT cells in the celiac duodenum. Nutrients. 2015, 7, 8960–8976; doi:10.3390/nu7115444
HO Al-Hassi, ER Mann, B Sanchez, NR English, STC Peake, J Landy, R Man, M Urdaci, AL Hart, L Fernandez-Salazar, GH Lee, JA Garrote, E Arranz, A Margolles, AJ Stagg, SC Knight, D Bernardo. Altered human gut dendritic cell properties in ulcerative colitis are reversed by Lactobacillus plantarum extracellular encrypted peptide STp. Mol Nutr Food Res. 2014 May;58(5):1132-43.
ACTIVE FUNDED PROJECTS
Proyectos COVID-19 de la Junta de Castilla y León (07.04.467B04.74011.0). Biomarcadores de pronóstico y mecanismos de inflamación mediante citometría de masas y multiplex. 454.760€. PI: David Bernardo
Proyectos de I+D+i», en el marco de los Programas Estatales de Generación de Conocimiento y Fortalecimiento Científico y Tecnológico del Sistema de I+D+i y de I+D+i Orientada a los Retos de la Sociedad, del Plan Estatal de Investigación Científica y Técnica y de Innovación 2017-2020 (PID2019-104218RB-I00). 2020-2022. Migración y diferenciación de las subpoblaciones de células dendríticas y monocitos en la mucosa intestinal de pacientes con enfermedad inflamatoria intestinal. 139.150€. PI: David Bernardo
Consejo Superior de Investigaciones científicas (CSIC-COV19-016/202020E155). 2020-2021. Biomarcadores de pronóstico y mecanismos de inflamación mediante citometría de masas y multiplex. 60.000€. PI: David Bernardo
Pfizer (54211793). 2020-2021. Immunomodulatory effect of tofacitinib on human intestinal dendritic cell subsets from patients with ulcerative colitis. 28,750€. PI: David Bernardo
IV Beca GETECCU-MSD. 2019-2021. Implicación funcional de las sub-poblaciones de células dendríticas en la patogénesis de la enfermedad de Crohn. 2020-2021. 12,000€. PI: David Bernardo
Gerencia Regional de Salud de Castilla y León (1973/A/19). 2019-2020 Reclutamiento de los monocitos circulantes y su posterior condicionamiento hacia macrófagos en la mucosa de los pacientes con enfermedad celiaca. 14,760€. PI: Luis Fernández Salazar